Seven of Henry's Children (with spouses) at Reed Reunion 1978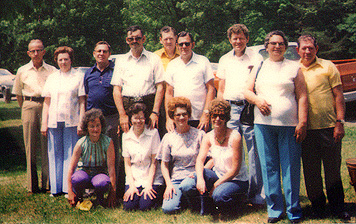 Each year the Reed Reunion is held in Rich Creek, Va on the first Saturday of August.
This picture of seven of Henry's children with their spouses was taken in 1978.
Standing (left to right):
Henry Anderson (Vella's husband), Vella Reed Anderson, James Reed,
Jack Ratcliff (Ruth's husband), Hugh Reed, Gene Reed, Dean Reed,
Pansy Reed (Watha's wife), and Watha Reed
Kneeling (left to right):
Marge Reed (James' wife), Ruth Reed Ratcliff, Jewel Reed (Gene's wife), and Bille Sue Reed (Dean's wife).
(Hugh's wife Edry is not present in this photo)
This photo is from the Reed Family
---
Back to Henry Reed Memorial
Last updated 02/05/01