Alan Jabbour Revisiting Glen Lyn, Va in 1995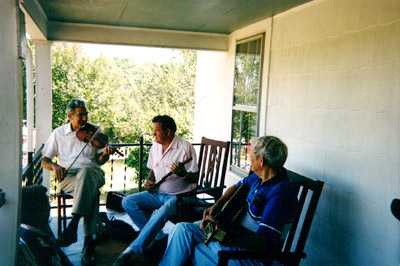 Steve Reed (back to the camera), Alan Jabbour (playing the fiddle), Gene Reed
(playing the Strum Stick), and Dean Reed (playing the guitar).
This photo was taken on the porch of the homeplace of
Henry Reed in Glen Lyn, Va over Labor Day weekend 1995.
Dean and Gene are the 2 youngest of Henry Reed's children (twins!) and Steve is Gene's son.
This photo was taken by my mother Billie Sue Reed
---
Back to Henry Reed Memorial
Last updated 02/03/01